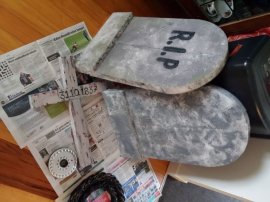 Covers Decoration Hire – my baby, well more like primary school kid now – 5 years in the event industry.
I realized this morning WHY I love this business.
This past weekend I spent a drizzly Saturday afternoon cutting, gluing, constructing Halloween decorations.  It's amazing how many bits and pieces we have in our storeroom at Covers, all waiting for the light bulb moment to transform them into cool decorations.  Anyway the family and I had a fabulous afternoon, lots of laughs bouncing ideas off each other, creating headstones, jack o lanterns, sculls in birdcages (from our range of course).  Such Fun.
Yes.  That is what it's all about.  The anticipation and the excitement of creating something wonderful for our guests to enjoy, imagining their reactions to the creepy, spooky, blood dripping, cobweb covered house.   The worry of pulling it all together in  a few short hours on the night.
It reminds me of my daughters April wedding build up and preparation.  Half of the fun and enjoyment with wedding planning is the anticipation of what is to come.  And a wedding is so all consuming, so much to plan, where to start, whats most important, where to spend the budget.
Lists, lists and more lists.
Then the day arrives – my daughters a wife, we party late into the night, the guests have a ball, best wedding every they said.  I'm ecstatic/proud/exhausted.  What more could I ask for.
This feeling should be contagious but I'm pretty sure it's not.  Oh what a shame.
My aim through this blog is to take you on a journey through the highs and lows of wedding planning, Some do's and maybe nots.  Some how tos and where froms and maybe even some pics from our Halloween night.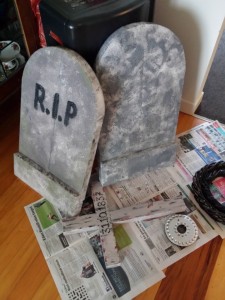 Related posts